WAYNE ROONEY 2016/17 HAND SIGNED SHIRT
Wayne Rooney is undoubtedly one of United's greatest ever players. If there was ever any doubt it is banished in an instant with just the briefest glance at his incredible list of honours and records shown below.

Wayne Rooney signed these official 2016/17 home shirts at a private signing in Manchester in December 2020. This is the shirt he wore when he received the award from Sir Bobby Charlton, to mark the milestone when he surpassed Sir Bobby's record to become Manchester United's all time greatest goalscorer. So what could be more fitting, as the perfect piece of Rooney memorabilia, than his iconic signature on this special shirt.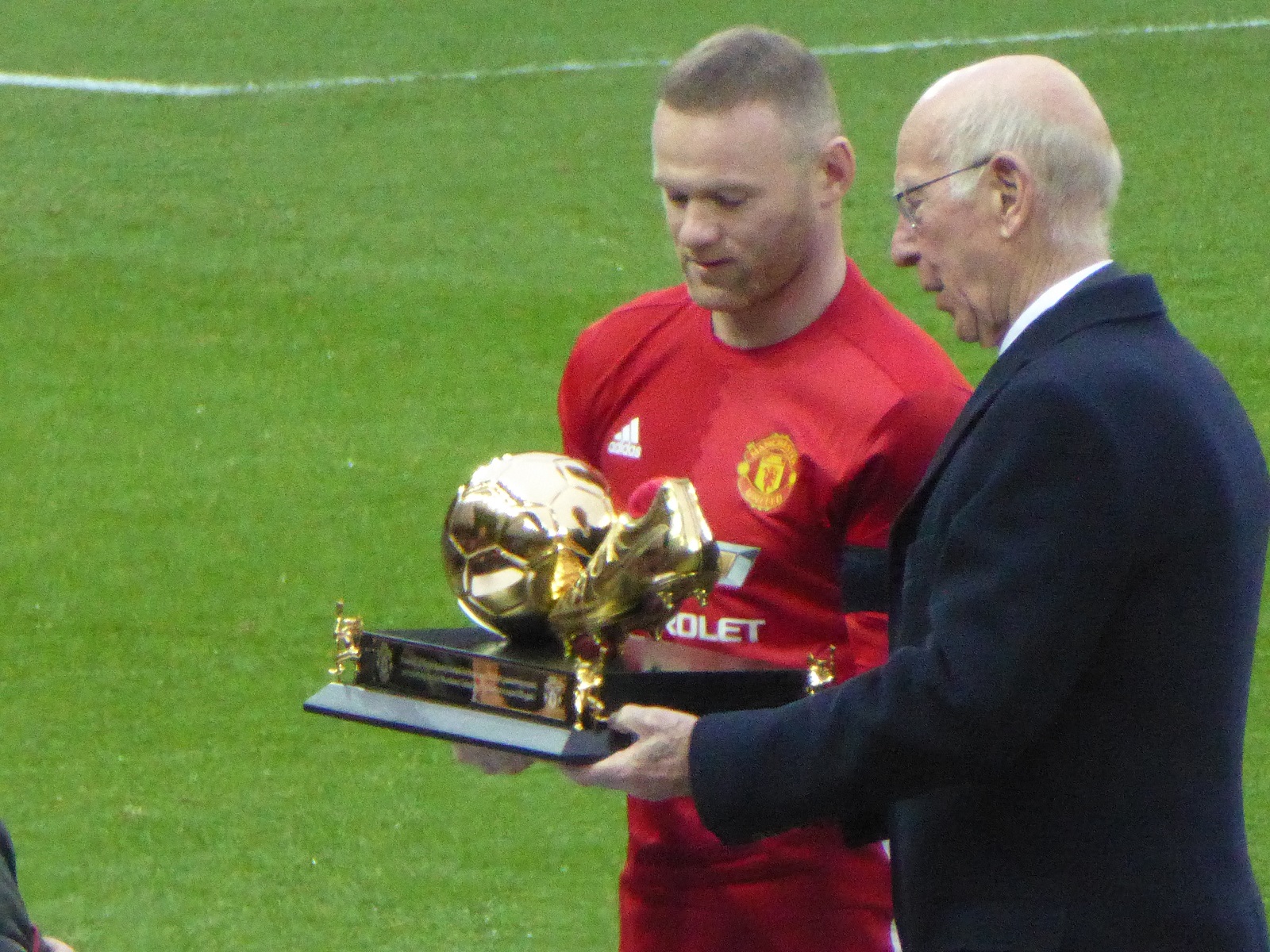 PRICING
The base price of £249 (RRP £299) is for a hand signed shirt unframed and collected from MUST. Adding framing and/or shipping (by insured courier) will adjust the price above (view the subheading not the headline price in the title - apologies for any confusion).

SHIPPING
We ship our shirts by insured courier and the price is added when you select Shipping and Framing? options above. If you would prefer to collect your shirt from MUST or to arrange your own courier collection please select the Collect from M.U.S.T shipping option and contact us to make arrangements.
---
WAYNE MARK ROONEY (born 24 October 1985)

Widely considered to be one of the best players of his generation, Rooney is the record goalscorer for both the England national team and Manchester United. A true Manchester United legend.

Rooney joined the Everton youth team at the age of 9 and made his professional debut for the club in 2002 at the age of 16. He spent two seasons at the Merseyside club, before moving to Manchester United for £25.6 million in the 2004 summer transfer window where he won 16 trophies and became the only English player, alongside teammate Michael Carrick, to win the Premier League, FA Cup, UEFA Champions League, League Cup, UEFA Europa League, and FIFA Club World Cup.
---
HONOURS & RECORDS

Manchester United
Premier League: 2006–07, 2007–08, 2008–09, 2010–11, 2012–13
FA Cup: 2015–16
EFL Cup: 2005–06, 2009–10, 2016–17
FA Community Shield: 2007, 2010, 2011, 2016
UEFA Champions League: 2007–08
UEFA Europa League: 2016–17
FIFA Club World Cup: 2008

Individual
UEFA European Under-17 Championship Golden Player: 2002
PFA Players' Player of the Year: 2009–10
PFA Young Player of the Year: 2004–05, 2005–06
PFA Fans' Player of the Year: 2005–06, 2009–10
PFA Team of the Year: 2005–06 Premier League, 2009–10 Premier League, 2011–12 Premier League
FWA Footballer of the Year: 2009–10
Sir Matt Busby Player of the Year: 2005–06, 2009–10
Manchester United Players' Player of the Year: 2009–10
BBC Young Sports Personality of the Year: 2002
Bravo Award: 2003
Golden Boy Award: 2004
UEFA European Championship Team of the Tournament: 2004
FIFPro Young Player of the Year: 2004–05
Premier League Player of the Season: 2009–10
Premier League Player of the Month: February 2005, December 2005, March 2006, October 2007, January 2010
England Senior Men's Player of the Year: 2008, 2009, 2014, 2015
FIFA Club World Cup Most Valuable Player of the Final: 2008
FIFA Club World Cup Golden Ball: 2008
FIFA FIFPro World XI: 2011
FIFA FIFPro World XI 4th team: 2013
FIFA FIFPro World XI 5th team: 2014, 2015
Premier League 20 Seasons Awards (1992–93 to 2011–12): Best Goal (vs. Manchester City, 12 February 2011)
Alan Hardaker Trophy: 2006
Premier League Goal of the Month: November 2017
FWA Tribute Award: 2017
MLS Player of the Month: October 2018
MLS Best XI: 2018
D.C. United MVP: 2018
D.C. United Golden Boot Winner: 2018
MLS All-Star: 2019

Records
Manchester United all-time top scorer: 253 goals
England national team all-time top scorer: 53 goals
Most Premier League goals scored for one club: 183 goals for Manchester United
Most Premier League away goals scored: 94 goals
Most Premier League seasons reaching double figures in goals: 12
Youngest player to start a competitive match for England: 17 years 160 days
Manchester United all-time top scorer in UEFA Club/European Competitions: 39 goals
Most goals scored by an English player in the Champions League: 35 goals
---
AUTHENTICITY GUARANTEED - CERTIFICATE OF AUTHENTICITY You can be confident of the authenticity of our items as M.U.S.T is the official Manchester United Supporters Trust (Google us) - a non-profit fans organisation - owned and run by our members - passionate Manchester United supporters. We are recognised by MUFC, the FA, the PL and national fan organisations (FSA) and registered with the Financial Conduct Authority - with offices at 18 Sir Matt Busby Way just a stone's throw from Old Trafford. All our items can be collected free of charge if preferred . All our signed shirts/memorabilia comes with a Certificate of Authenticity & Photographic Proof with every item.