This batch of shirts were signed by Jimmy and Stuart for M.U.S.T at our office on Sir Matt Busby Way on 10th December 2017 (prior to the home game vs Manchester City). All shirts come with a Certificate of Authenticity.
- Replica 1977 FA Cup Final shirt
- Hand signed by the 1977 FA Cup Final winning goalscorers
- Dual Signed by Stuart Pearson and Jimmy Greenhoff
- Historic piece of Manchester United memorabilia
Goalscoring duo & genuine Manchester United Legends
Jimmy Greenhoff - 123 App 36 Goals
Stuart Pearson - 180 App 66 Goals
Combined - 303 App 102 Goals
Most important goals - for both players came in the same game - The Scouse Treble Busting 1977 FA Cup Final against Liverpool.
Pearson put United ahead just after the start of the 2nd half only for United to concede 2 minutes later. Jimmy Greenhoff came to the rescue as he bagged the winner 3 minutes later (only 5 minutes after Pearson had put United 1-0 up).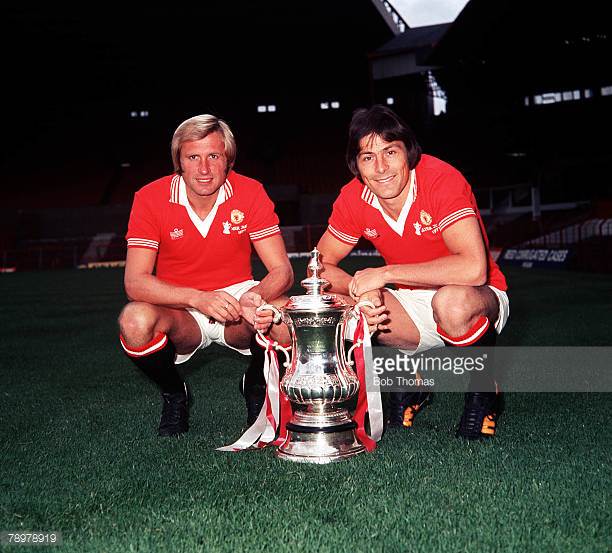 The 1977 FA Cup Final - highlights
The 1977 FA Cup Final - The Full Monty