This is a Framed reprint of the 1968 European Cup Final Programme Cover which has been hand signed by John Aston.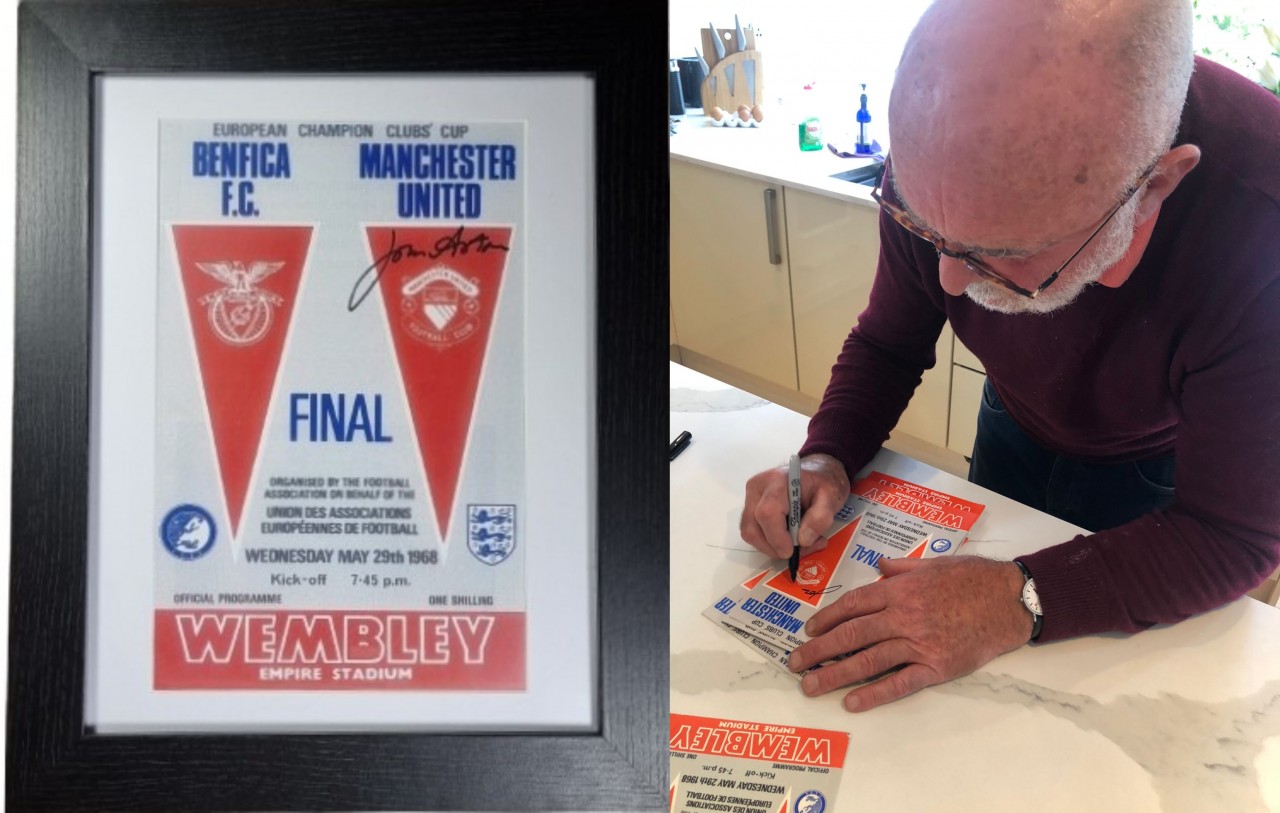 The European Cup, now known as the UEFA Champions League, is a club football tournament, contested by the best teams across Europe. The competition was first played in 1955–56. Neither Benfica nor Manchester United participated in the inaugural tournament, which was by invitation only; although Benfica had won the 1954–55 Primeira Divisão title, Sporting CP had already been invited. In 1968, only the league champion from each country qualified. Benfica reached the European Cup final for the first time in 1961, when they beat Barcelona 3–2. The following year, Benfica defended their title, coming from behind to beat Real Madrid 5–3 in the final. Benfica were losing finalists twice more over the next three years, losing to Milan in 1963 and Inter Milan in 1965.

Manchester United had never previously reached the European Cup final. They had been losing semi-finalists in both the 1956–57 and 1957–58 competitions. In February 1958, the team were returning from Belgrade having eliminated Red Star Belgrade in the quarter-finals when eight of their players were killed and two more suffered career-ending injuries in the Munich air disaster. Despite not qualifying, they were invited by UEFA to play in the following season's European Cup, but were forced to withdraw by the English Football Association. They returned to the competition in 1965–66, when they faced Benfica for the first time in the quarter-finals. Manchester United won 8–3 on aggregate, but were eliminated in the semi-final

Dimentions of cover 9 x 6 inch or 228mm x 152mm
---
AUTHENTICITY GUARANTEED
You can be confident of the authenticity of our items as M.U.S.T is the official Manchester United Supporters Trust (Google us) - a non-profit fans organisation - owned and run by our members - passionate Manchester United supporters. We are recognised by MUFC, the FA, the PL and national fan organisations (FSF/Supporters Direct) and registered with the Financial Conduct Authority - with offices at 18 Sir Matt Busby Way just a stone's throw from Old Trafford. All our items can be collected free of charge if preferred . All our signed shirts/memorabilia comes with a Certificate of Authenticity.